Last updated on October 2nd, 2022 at 12:42 pm
A bare wall does not look good unless it has the Kalnirnay Calendar, Kalnirnay Calendar is the name in every house when it comes to the calendar beginning of every new year. Kalnirnay Calendar has a huge history for a long. So we have bought a month-on-month Kalnirnay Calendar 2022 along with the Kalnirnay Panchang 2022 in both image format & PDF format so that you can keep anything that is handy for you. Kalnirnay is celebereting glorious 50 years of there service to the customers, Kalnirnay calendar was established in 1972.
Check Below Kalnirnay Calendar 2022 – 
What we have covered for you is Kalnirnay Calendar 2022 & Kalnirnay Calendar Panchang 2022, Along with this we have updated with the monthly events happening in the Calendar Year 2022.
Kalnirnay Calendar January 2022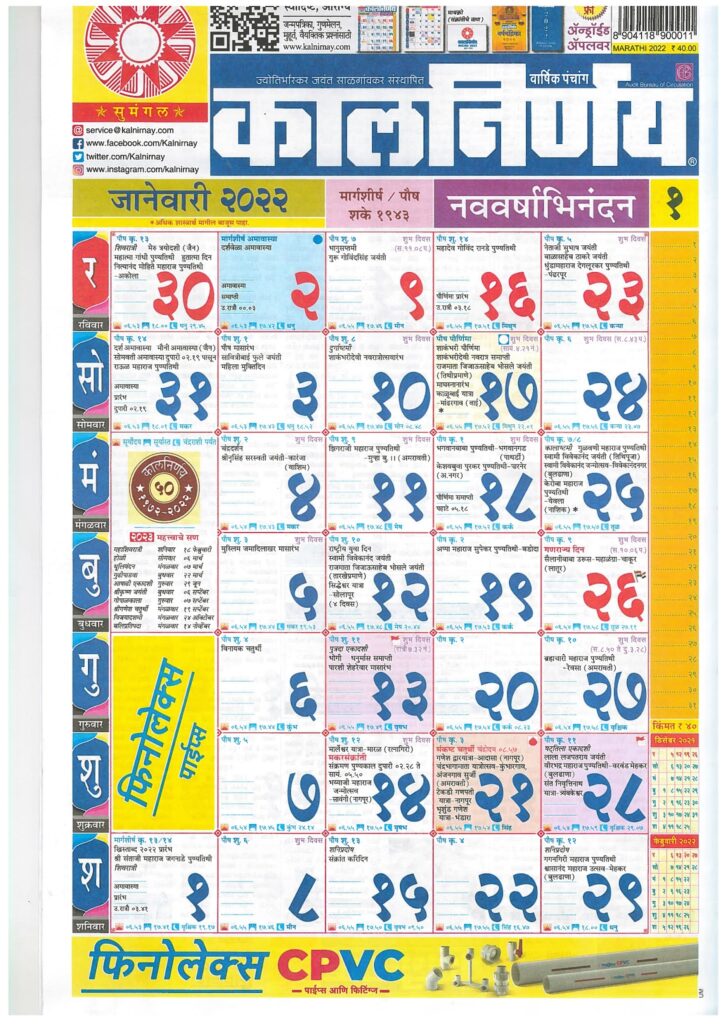 Events / Festivals in the month of January 2022 in the Kalnirnay Calendar 2022 are as follows –
2nd January 2022 Amavasya
14th January 2022 Makarsankrati
26th January Replublic Day of India
Kalnirnay Panchang January 2022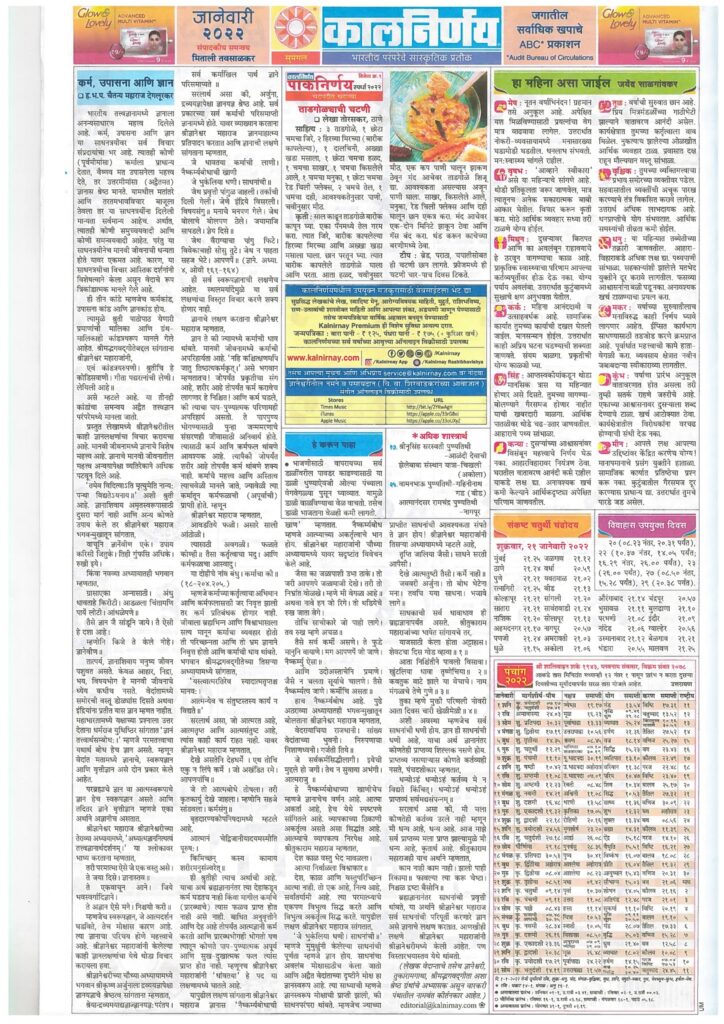 Kalnirnay Calendar February 2022
Events / Festivals in the month of February 2022 in the Kalnirnay Calendar 2022 are as follows –
1st February 2022 Amavsya
4th February 2022 Ganesh Jayanti
12 th February Ekadashi
19th February 2022 Chhatrapati Shivaji Maharaj Jayanti (As per Date)
20th February 2022 Sankashti Chaturthi
Kalnirnay Panchang February 2022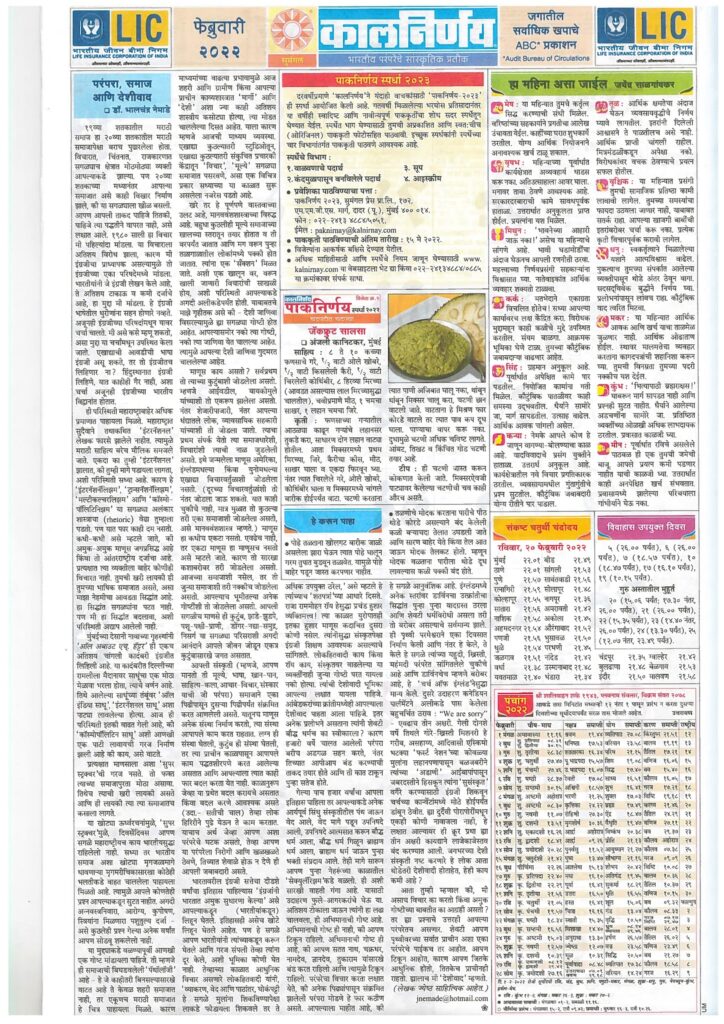 Kalnirnay Calendar March 2022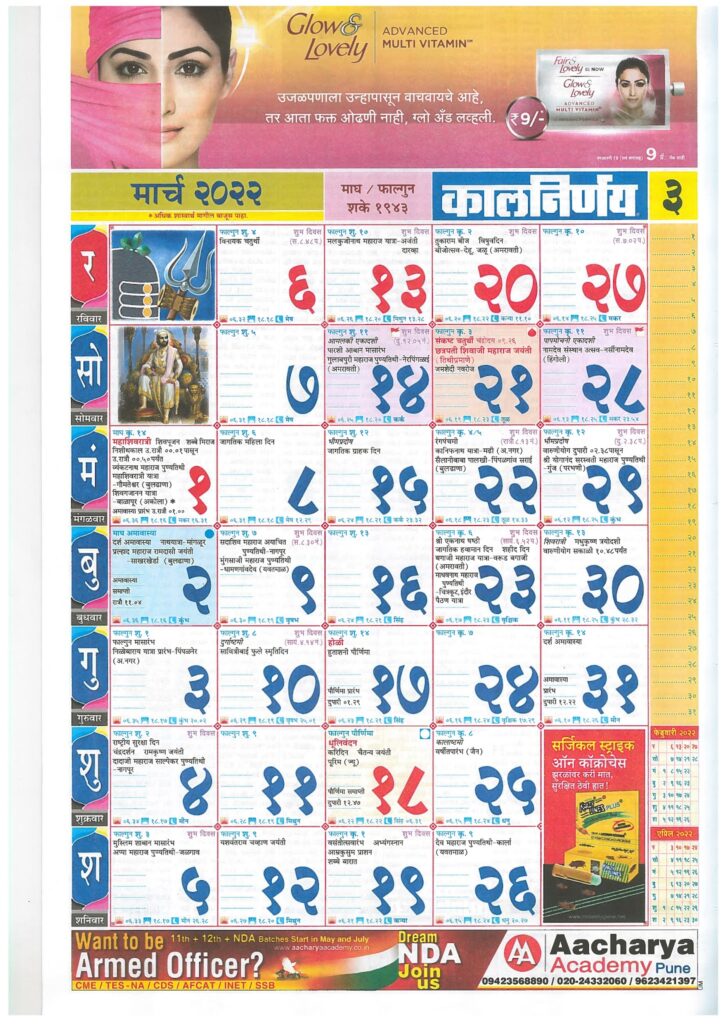 Events / Festivals in the month of March 2022 in the Kalnirnay Calendar 2022 are as follows –
1st March 2022 – Maha Shiv Ratri
2nd March 2022 – Amavasya
17th March 2022 – Holi
18th March 2022 – Dhulivandan
21st March 2022 – Sankashti Chaturthi
21st MArch 2022 – Chhatrapati Shivaji Maharaj Jayanti (As per Tithi)
Kalnirnay Panchang March 2022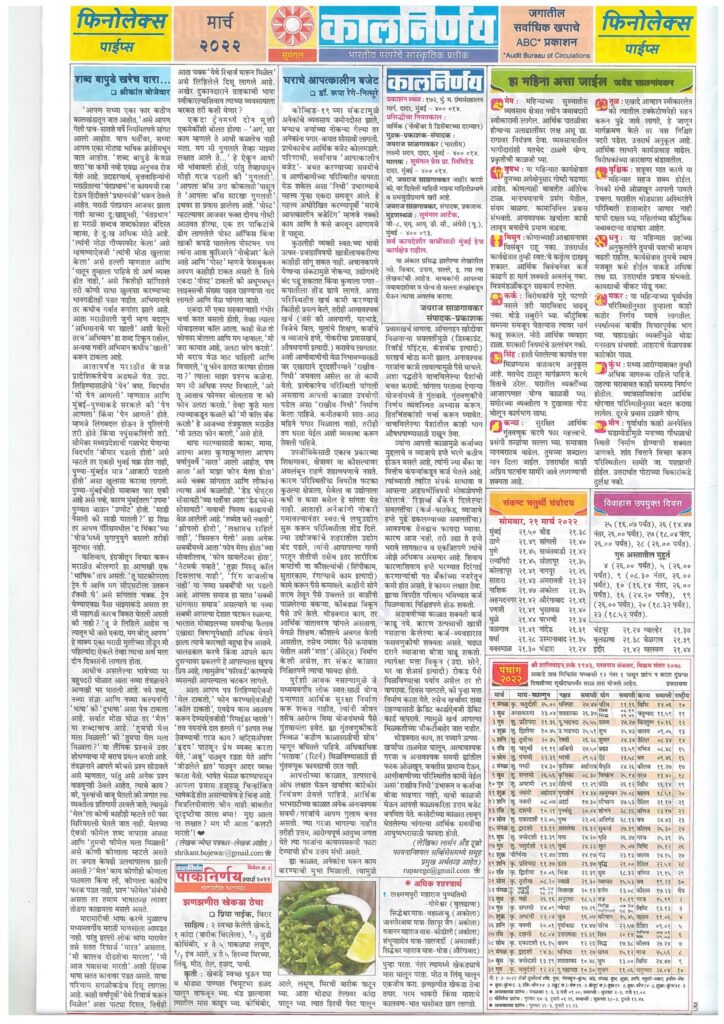 Kalnirnay Calendar April 2022
Events / Festivals in the month of April 2022 in the Kalnirnay Calendar 2022 are as follows –
1st April 2022 – Amavasya
2nd April 2022 – Gudhipadwa
10th April 2022 – Ram Navami
14th April 2022 – Dr. Babasaheb Ambedkar Jayati
15t April 2022 – Good Friday
16th April 2022 – Hanuman Jayanti
17th April 2022 – Easter Sunday
19th April 2022 – Angaraki Sankashti Chaturthi
Kalnirnay Panchang April 2022
Kalnirnay Calendar May 2022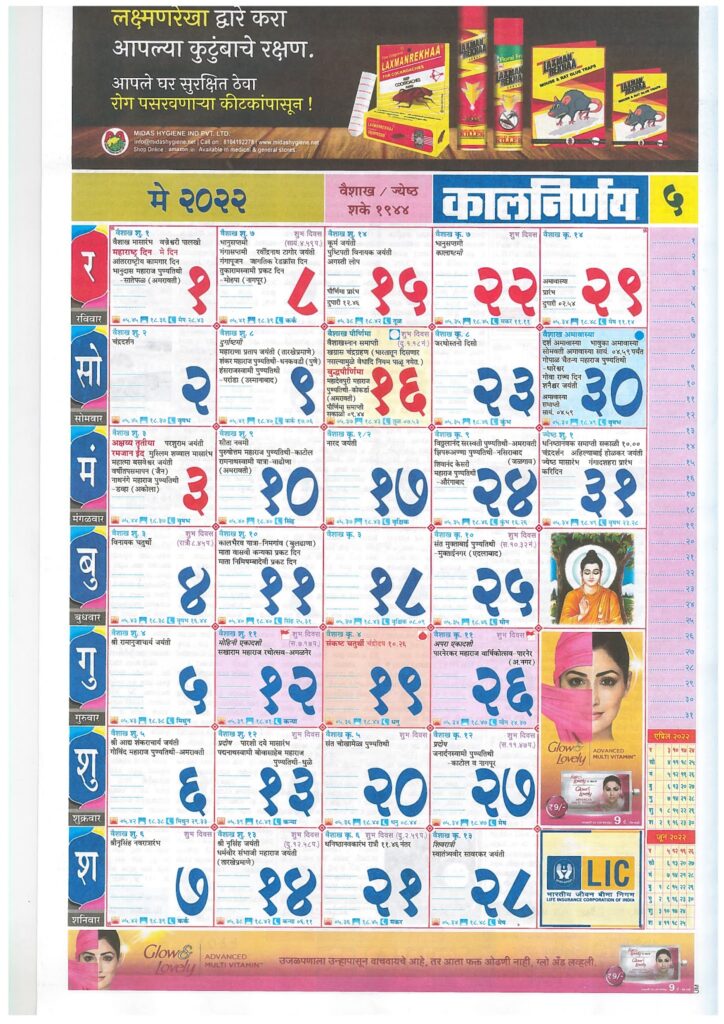 Events / Festivals in the month of May 2022 in the Kalnirnay Calendar 2022 are as follows –
1st May 2022 – Maharashtra Din
2nd May 2022 – Akshaya Tritiya
2nd May 2022 – Ramadan Eid
Kalnirnay Panchang May 2022
Kalnirnay Calendar June 2022
Events / Festivals in the month of June 2022 in the Kalnirnay Calendar 2022 are as follows –
11th June 2022 – Sambhaji Maharaj Jayati
14th June 2022 – Vat Pournima
17th June 2022 – Sankashti Chaturthi
Kalnirnay Panchang June 2022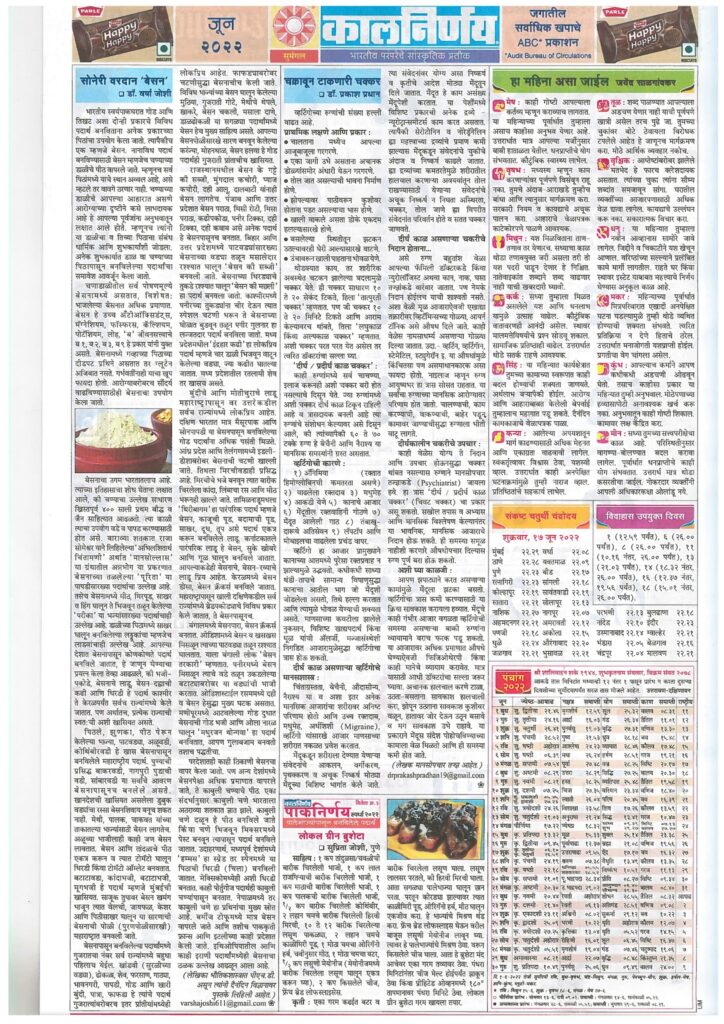 Kalnirnay Calendar July 2022
Events / Festivals in the month of July 2022 in the Kalnirnay Calendar 2022 are as follows –
10th July 2022 – Ashadi Ekadashi
10th July 2022 – Bakri Eid
13th July 2022 – Guru Pournima
16th July 2022 – Sankashti Chaturthi
Kalnirnay Panchang July 2022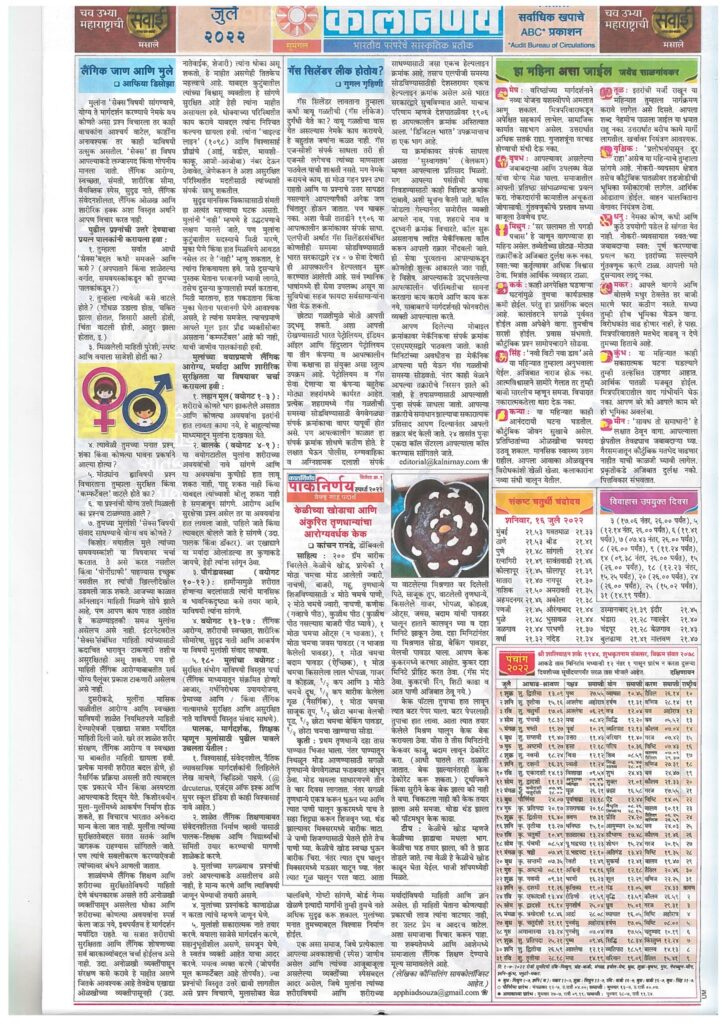 Kalnirnay Calendar August 2022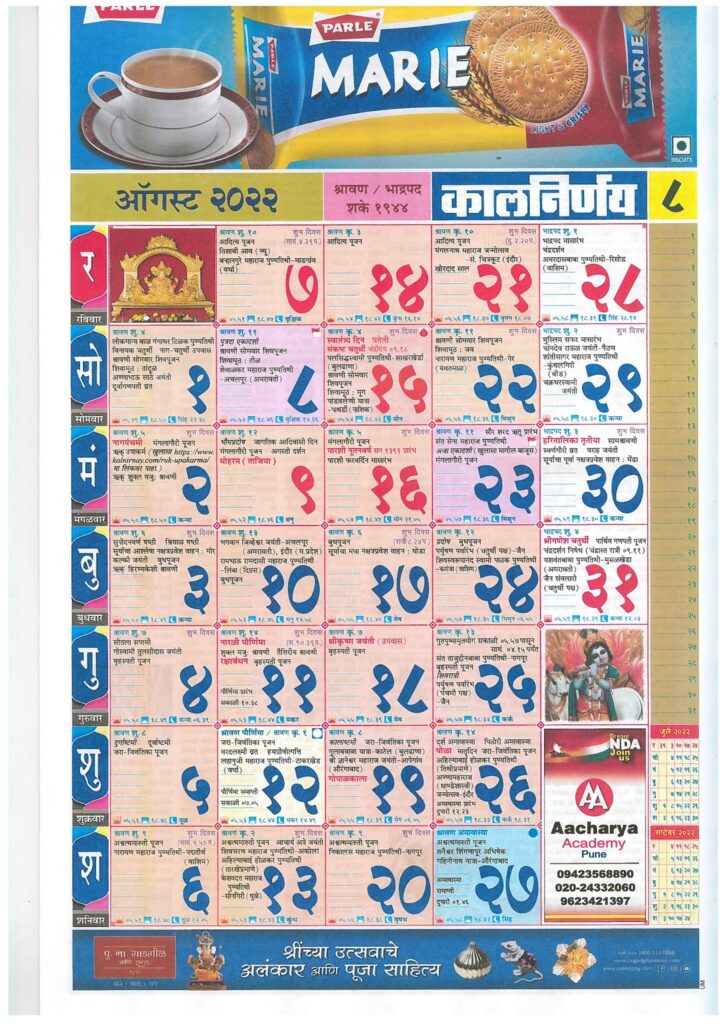 Events / Festivals in the month of August 2022 in the Kalnirnay Calendar 2022 are as follows –
2nd August 2022 – Nag Panchami
9th August 2022 – Moharam
11th August 2022 – Rakshabandhan
15th August 2022 – Independence Day
15th August 2022 – Sankashti Chaturthi
18th August 2022 – Sri Krishna Jayanti
19th August 2022 – Gopalkala
26th August 2022 – Bail Pola
27th August 2022 – Amavasya
31st August 2022 – Sri ganesh Jayanti
Kalnirnay Panchang August 2022
Kalnirnay Calendar September 2022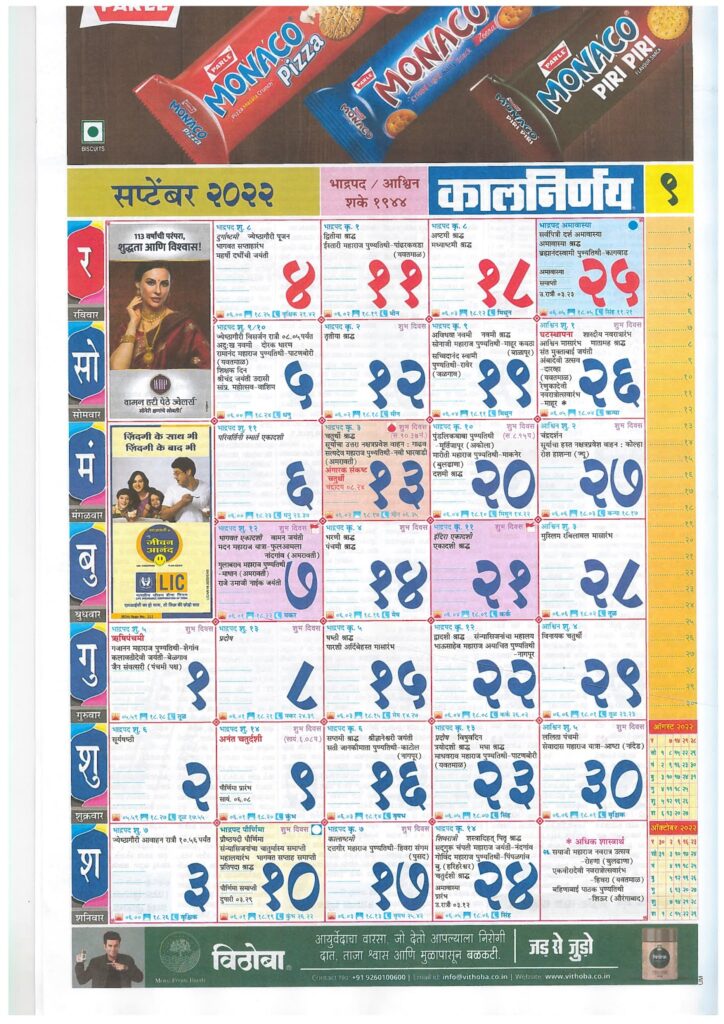 Events / Festivals in the month of September 2022 in the Kalnirnay Calendar 2022 are as follows –
1st September 2022 – Rishi Panchami
9th September 2022 – Anant Chaturdashi
13th September 2022 – Angaraki Sankashti Chaturthi
25th September 2022 – Amavasya
26th September 2022 – Ghatasthapana
Kalnirnay Panchang September 2022
Kalnirnay Calendar October 2022
Events / Festivals in the month of October 2022 in the Kalnirnay Calendar 2022 are as follows –
2nd October 2022 – Lal Bahudur Shatri Jayanti
2nd October 2022 – Mahatama Gandhi Jayanti
5th October 2022 – Desera
9th October 2022 – Kojagiri Pournima
9th October 2022 – Eid-A-Milad
23 October 2022 – Dhanteras
24th October 2022 – Narak Chaturdashi
24th October 2022 – Laxmi Poojan
25th October 2022 – Amavasya
26th October 2022 – Dipawali Padwa
26th October 2022 – Bhaubij
Kalnirnay Panchang October 2022
Kalnirnay Calendar November 2022
Events / Festivals in the month of November 2022 in the Kalnirnay Calendar 2022 are as follows –
8th November 2022 – Gurunanak Jayanti
12th November 2022 – Sankasti Chaturthi
23rd November 2022 – Amvasya
Kalnirnay Panchang November 2022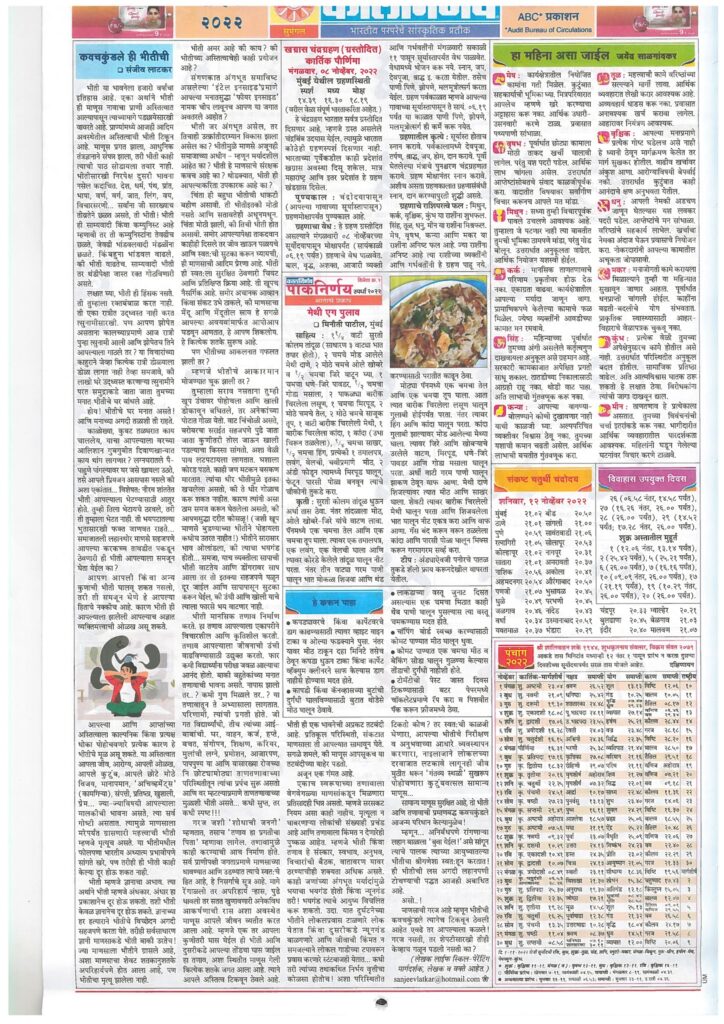 Kalnirnay Calendar December 2022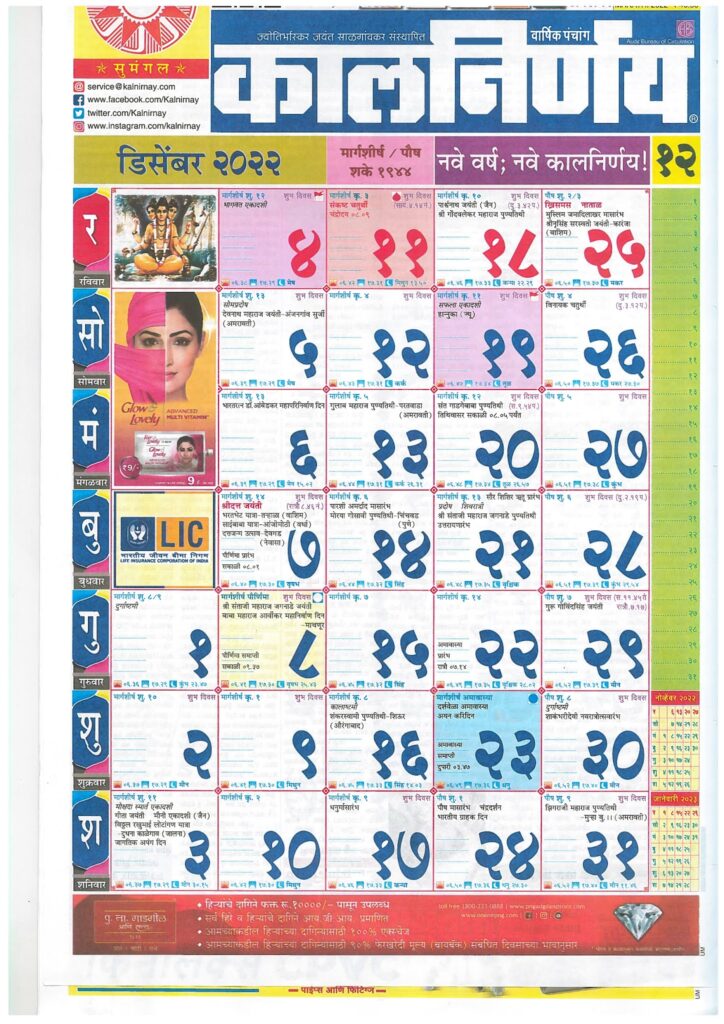 Events / Festivals in the month of December 2022 in the Kalnirnay Calendar 2022 are as follows –
7th December 2022 – Dattatraya Jayanti / Datta Jayanti
11th December 2022 – Sankasti Chaturthi
23rd December 2022 – Amavasya
25th December 2022 – Christmas / Natal
31st December 2022 – Last Day of 2022 – Happy New Year
Kalnirnay Panchang December 2022