February – A Month of Festivals, Auspicious events and Celebration
February is the second month of the Gregorian calendar and has 28 days (29 in leap years), it's a short month but packed with important events and festivals. In India, it marks the celebration of several important festivals, it is an auspicious time for farmers and students and it is also a month of love and celebration.
Kalnirnay Calendar February 2023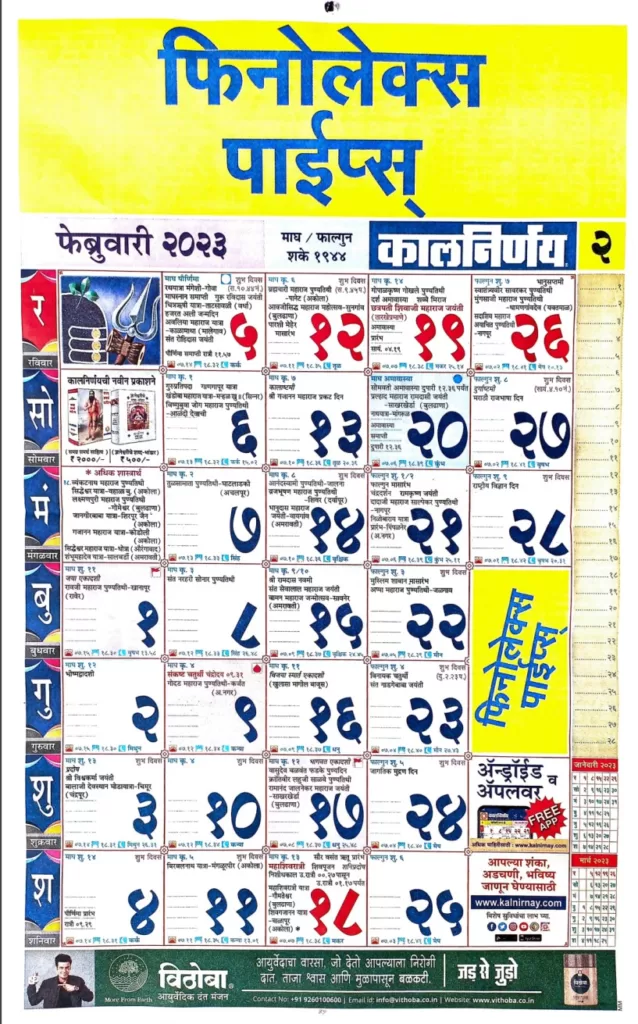 Kalnirnay Pachang February 2023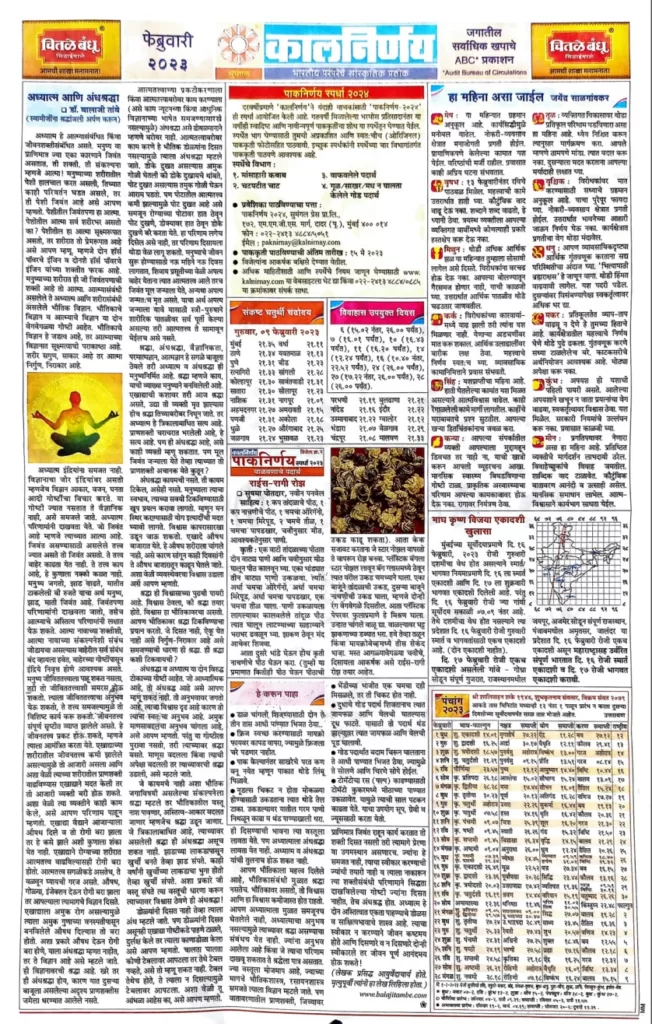 Events / Festivals in the month of February 2023 in the Kalnirnay Calendar 2023 are as follows –
Jaya Ekadashi – Wednesday 1st February 2023
Poornima Starts (Time – 9:29AM) – 4th February 2023 Friday
Sankasti Chaturthi – Thursday 9th February 2023
Friday 17th February 2023 – Bhagwat Ekadashi 2023
17th February 2023 – Vasudev Balvant Fadke Punyatithi
Sunday 19th February 2023 (As per Date) – 18th February 2023 Saturday – Mahashivratri
Somvati Amavasya – Monday 20th February 2023 End at 12.36PM
23rd February 2023 – Vinayak Chaturthi
23rd February 2023 – Sant Gadge Baba Jayanti
26th February 2023 – Swatantra Veer Savarkar Punyatithi
Maha Shivratri – The Auspicious Festival of Lord Shiva
Maha Shivratri is celebrated on the 14th of February and it is considered as one of the most auspicious days for Hindu religion. It is the day when Lord Shiva is worshiped with great devotion and devotion.
Holi – The Festival of Colors and Joy
Holi is celebrated on the 28th of February, it is a festival of colors and joy. It is celebrated to mark the victory of good over evil and the arrival of spring.
Rabi Crop Season – An Auspicious Time for Farmers
February is also an important month for farmers as it marks the beginning of the Rabi crop season. It is considered as an auspicious time to sow crops and farmers start preparing their land for sowing.
New Academic Session and Board Exams – A Time for Students
February is also an important month for students as it marks the beginning of the new academic session and the start of board exams.